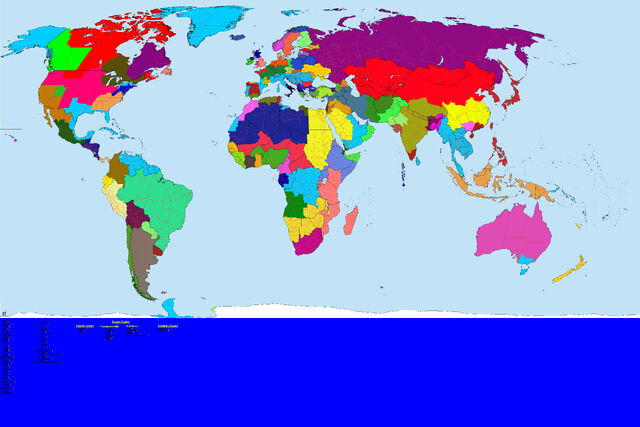 Description
Edit
The official map of Vicendum, outling all the countries that are signatories of the Treaty of Buffalo.
The official map of Vicendum. Real-life equivalent territories outlined where necessary:

OOC: The official map of Vicendum. Real-life equivalent territories outlined where necessary:

-Angola
-Argentina
-Arles (S France)
-Assyria (SE Turkey, Azerbaijan, N Syria, N Iraq, Cilicia, Cyprus, W Iran)
-Australia (most)
-Austria (historic region)
-Bactria (Afghanistan, E Iran)
-Birea (Indonesia, Borneo)
-Bolivia (Bolivia, N/W Bengal)
-Brazil (Brazil, Sindh, Rajasthan)
-Bulgaria
-Byzantium (Thrace, N Greece, Albania, Macedonia, Apulia, Venetia, NW coastal Anatolia)
-Cameroon
-Canada (N/W Canada, Nova Scotia (mainland), Montana, North Dakota)
-Carolina ("Deep South" United States)
-Carthage (N Tunisia, most of Spain, part of Sicily, Deccan, Hainan, Guangdong)
-Casara (most of N and W Africa, part of Sicily)
-Chile
-Colombia (most of C/W U.S.)
-Costa Rica (Costa Rica, Honduras, Nicaragua, Guatemala)
-Czech Republic
-Denmark
-Ecuador (Colombia)
-Egypt (Egypt, Sudan, Ethiopia, Eritrea, Somaliland, Uganda, Israel, Palestine, E Arabia, Attica, Aydin Province)
-England (England, Island of Newfoundland, Atlanic Canada (except Nova Scotia mainland), Madagascar, Burundi, Rwanda, Kenya, Tanzania, Mozambique)
-Estonia
-Finland (most of RL country)
-Ghana
-Great Zimbabwe (Rhodesia, Namibia)
-Greek City States (Peloponnese, N & W coastal Anatolia, Armenia)
-Guinea (Guinea, Guinea-Bissau, Sierra Leone, Liberia)
-Gujarat
-Hittite Empire (most of Anatolia)
-Iceland (Iceland, S Nova Scotia, Laapland, Canary Islands, Environs of Kristiansand (Norway))
-Ireland
-Israel
-Italy (S Italy, E Sicily, C/S Albania, W coastal Greece)
-Ivory Coast
-Japan (Japan, Sahkalin Island, Philippines, Taiwan, North Korea, South Korea)
-Jordan
-Karelia
-Khorsun (Nigeria, Burkina Faso, Togo, Benin)
-Korval (parts of Antarctica and Spain)
-Kyrkistan (Daghestan, E Georgia, Ingushetia)
-Latvia
-Mesopotamian States (S Syria, Kuwait, S/C Iraq)
-Mexico
-Mongol Khanate (most of Central Asia, N China)
-Montenegro
-Morocco (Morocco, Guangxi)
-Netherlands
-New York (New York metro, New Jersey, Delaware, Chesapeake Bay, West Virginia, Pennsylvania (most), Maryland, Maldives, Mahe)
-New Zealand
-Niger River Federation (Niger River region of W Africa)
-Normandy
-Norway (most of RL country)
-Oman (coastal Arabia, most of Pakistan, Kashmir, Puntland)
-Ophir (Djibouti, Strait of Aden)
-Ontario (Ontario, Ohio, Indiana, Kentucky, Michigan, Wisconsin, NE New York State, Vermont, New Hampshire, Maine)
-Panama
-Papal States (Bangladesh, E Bengal)
-Paraguay
-Peru
-Phoenician States (Lebanon, W Sicily, parts of Spain, Cyrene)
-Poland (C/E Poland, Belarus, Baltics, Azores)
-Pueblo (California, Nevada, Arizona, Coahuila, Chihuahua, Sonora, Baja California)
-Quebec (Quebec, Labrador)
-Rhum (Part of NE Turkey)
-Roman Columbia (Yukon, British Columbia, Alberta)
-Roman Republic (N Italy, Tyrol, Carinthia, Switzerland, Portugal, Basque Provinces, Catalonia, NE coastal Spain, Aquitaine, Septimania, Rhone Valley, Slovenia, Hungary, Bosnia-Herzegovina, Croatia, Serbia, Romania, Tripolitana, Byzacena, Western Sahara, Ellesmere Island, Texas, Mexican/American Gulf Coast region, Greenland, Antarctic Peninsula, Svalbard, Alaska, Indochina, Pondicherry, Karaikal, Cape Verde, Congo region, Sri Lanka, Empty Quarter, SE Persian Gulf coast, Yemen (most), UAE, Caribbean islands, Guyana, French Guiana, Suriname, Venezuela, Hong Kong, Papua New Guinea (islands), Polynesia, Micronesia, Marshall Islands, Australia (Victoria and Tasmania), Solomon Islands, Kiribati, Vanuatu, Fiji)
-Russia
-Scotland (Scotland, Equitorial Guinea, Gabon)
-Senegal
-Serbia
-Slovakia
-Slovenia (Silesia)
-South Africa
-South China Collective (S China)
-Sweden (most of RL country)
-Ukraine
-Union of Asian Eminence (most of India, Nepal, Bhutan, Tibet)
-Uruguay
-Utah
-Vandal Kingdom (Andalusia, coastal Algeria)
-Vikingalandi (Ecuador)
-Wales
-Western European Confederation (Germany, most of France)
File history
Click on a date/time to view the file as it appeared at that time.
Date/Time
Thumbnail
Dimensions
User
Comment
current
06:08, April 15, 2018
4,500 × 3,000

(6.18 MB)

Danielg342 (wall | contribs)
00:08, March 15, 2018
4,500 × 3,000

(6.19 MB)

Danielg342 (wall | contribs)
06:32, March 4, 2018
4,500 × 3,000

(6.19 MB)

Danielg342 (wall | contribs)
03:56, November 18, 2017
4,500 × 3,000

(6.18 MB)

Danielg342 (wall | contribs)
22:56, October 15, 2017
4,500 × 3,000

(6.19 MB)

Danielg342 (wall | contribs)
21:59, September 11, 2017
4,500 × 3,000

(6.19 MB)

Danielg342 (wall | contribs)
20:51, September 9, 2017
4,500 × 3,000

(6.19 MB)

Danielg342 (wall | contribs)
04:20, September 4, 2017
4,500 × 3,000

(6.19 MB)

Danielg342 (wall | contribs)
23:43, August 15, 2017
4,500 × 3,000

(6.17 MB)

Danielg342 (wall | contribs)
23:28, August 15, 2017
4,500 × 3,000

(6.17 MB)

Danielg342 (wall | contribs)
01:06, August 15, 2017
4,500 × 3,000

(6.17 MB)

Danielg342 (wall | contribs)
21:52, August 14, 2017
4,500 × 3,000

(6.16 MB)

Danielg342 (wall | contribs)
23:49, August 12, 2017
4,500 × 3,000

(6.16 MB)

Danielg342 (wall | contribs)
02:41, July 30, 2017
4,500 × 3,000

(6.16 MB)

Danielg342 (wall | contribs)
01:05, June 23, 2017
4,500 × 3,000

(6.16 MB)

Danielg342 (wall | contribs)
23:11, April 30, 2017
4,500 × 3,000

(6.16 MB)

Danielg342 (wall | contribs)
23:24, April 3, 2017
4,500 × 3,000

(6.16 MB)

Danielg342 (wall | contribs)
05:32, March 25, 2017
4,500 × 3,000

(6.16 MB)

Danielg342 (wall | contribs)
19:07, March 5, 2017
4,500 × 3,000

(6.16 MB)

Danielg342 (wall | contribs)
03:25, March 5, 2017
4,500 × 3,000

(6.16 MB)

Danielg342 (wall | contribs)
22:03, February 22, 2017
4,500 × 3,000

(6.15 MB)

Danielg342 (wall | contribs)
02:40, February 14, 2017
4,500 × 3,000

(6.16 MB)

Danielg342 (wall | contribs)
23:32, January 24, 2017
4,500 × 3,000

(6.16 MB)

Danielg342 (wall | contribs)
06:26, January 15, 2017
4,500 × 3,000

(6.16 MB)

Danielg342 (wall | contribs)
07:09, December 29, 2016
4,500 × 3,000

(6.17 MB)

Danielg342 (wall | contribs)
09:32, November 20, 2016
4,500 × 3,000

(6.17 MB)

Danielg342 (wall | contribs)
00:57, November 11, 2016
4,500 × 3,000

(6.15 MB)

Danielg342 (wall | contribs)
03:09, November 9, 2016
4,500 × 3,000

(6.15 MB)

Danielg342 (wall | contribs)
03:51, November 5, 2016
4,500 × 3,000

(6.15 MB)

Danielg342 (wall | contribs)
05:36, October 29, 2016
4,500 × 3,000

(6.15 MB)

Danielg342 (wall | contribs)
01:38, October 20, 2016
4,500 × 3,000

(6.16 MB)

Danielg342 (wall | contribs)
23:20, October 18, 2016
4,500 × 3,000

(6.15 MB)

Danielg342 (wall | contribs)
00:13, October 9, 2016
4,500 × 3,000

(6.14 MB)

Danielg342 (wall | contribs)
02:36, September 20, 2016
4,500 × 3,000

(6.13 MB)

Danielg342 (wall | contribs)
03:11, September 15, 2016
4,500 × 3,000

(6.13 MB)

Danielg342 (wall | contribs)
05:47, September 3, 2016
4,500 × 3,000

(6.12 MB)

Danielg342 (wall | contribs)
21:41, September 2, 2016
4,500 × 3,000

(6.12 MB)

Danielg342 (wall | contribs)
23:39, August 26, 2016
4,500 × 3,000

(3.43 MB)

Danielg342 (wall | contribs)
23:29, August 23, 2016
4,500 × 3,000

(3.42 MB)

Danielg342 (wall | contribs)
22:21, August 19, 2016
4,500 × 3,000

(3.42 MB)

Danielg342 (wall | contribs)
03:13, August 12, 2016
4,500 × 3,000

(3.42 MB)

Danielg342 (wall | contribs)
01:59, August 11, 2016
4,500 × 3,000

(3.42 MB)

Danielg342 (wall | contribs)
01:43, August 11, 2016
4,500 × 3,000

(3.42 MB)

Danielg342 (wall | contribs)
22:06, July 14, 2016
4,500 × 3,000

(3.42 MB)

Danielg342 (wall | contribs)
22:23, July 12, 2016
4,500 × 3,000

(3.42 MB)

Danielg342 (wall | contribs)